Simplified Class List Creation
Step 1: Create custom identifiers and assessment fields to match the needs of your school.
These will appear in the Student Card.
Step 2: Use our import feature to upload your students.
Users (teachers) and assessment scores can be imported in bulk also.
Having the students and assessment scores prepopulated will save time for your teachers during the grading process.  Administrators can also preselect identifiers for teachers with our Assign Identifiers feature.
Step 3: Students are assessed on their individual Student Card.
The Student Card is very intuitive for first time users due to its paper-like look and feel.
This "Digital Binder" houses all the information you care about:
Name, gender, goes by name, student id, and teacher name.
Student picture (optional).
Academic scores: Reading, Math, and Writing.
Life Skills scores: Behavior and Work Skills
Identifiers.
Assessment scores.
Notes.
Placement Requests: Do Not Place with Student,  Keep with Student, and Keep with Teacher
Do Not Place with Student, Keep with Student, and Identifiers travel with the student from year to year.  A separation noted for two students in first grade won't be forgotten when the third grade classes get created.
As the data is entered into the Student Card a Student Cell is simultaneously created.
The Student Cell is a condensed version of the information housed in the Student Card.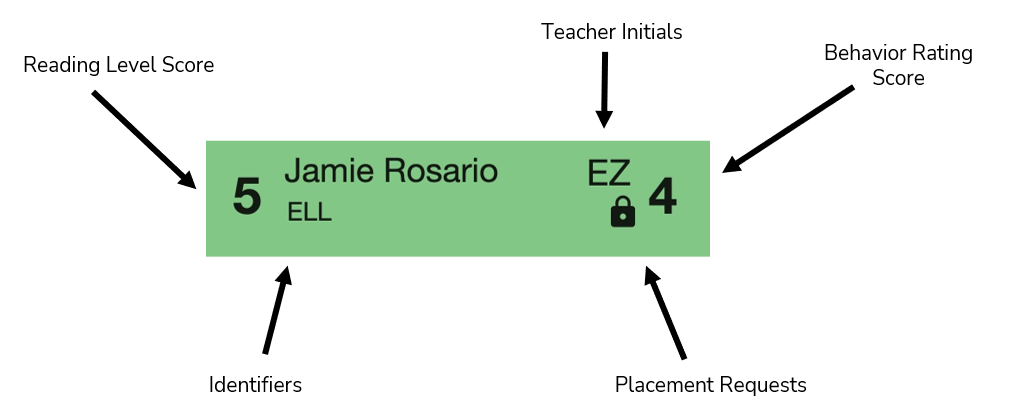 The Student Cell color is determined by the Reading score unless a 2 (yellow) or 1 (red) is selected for Behavior.
Our algorithm, developed by a Carnegie Mellon University Ph.D. mathematician, instantly creates balanced classes as a starting point on the Next Year Digital Data Wall.
The Student Cell colors make it easy to view the distribution of students based on academic and behavior ratings across the entire grade level.
Fine-tune student placement by dragging and dropping Student Cells.
Moving one student automatically updates the data table making it easy to see, and adjust any potential inequities.
Placement requests are honored automatically. A warning will appear if a student is moved in violation of a placement request. Placement Requests can be overridden.
View assessment data for all of your students with one click.
Use our highlight and filter options to view detailed information clearly. This is where the power of our customizable identifiers have significant value to meet your unique needs.
Open the Student Card to view all the information for an individual student.
Use our Compose Settings to cluster or evenly distribute identified students into certain classes for next year automatically. You can also choose a class to loop for next year.
Use our Hallway feature to remove students from the Digital Data Wall.
Step 5: Finalize and share with your teachers.
Once you have finalized all your class lists select the Move to Next Year button. This will send all the new classes to your teachers for the new school year. Teachers can learn about their new students at the beginning of the new academic year from the Student Cards filled in by last year's teacher. For an in-depth summary view over multiple years, your teachers can use our Historical Student Record feature. Teachers can assess their students for the new school year to take advantage of our Day-to-Day features. Then at the end of the school year new, classes can be created again. Placement requests and identifiers from the previous year will travel with the Student Card.
Are you ready to move away from sticky notes and paper cards ?