Create Equitable Classes Simply and in Less Time
Data Gets Entered on the Student Card
Paper-like look and feel.
Academic ratings.
Life skills ratings.
Custom assessment fields.
Custom identifiers.
Placement requests.
General notes.
Progress monitoring data.
Students automatically placed into equitable classes.
Placement requests are honored.
Student placement can be fine-tuned by dragging and dropping.
Data table instantly updates when a student is moved.
Highlight students with certain identifiers.
View assessment scores.
Value Throughout the School Year
The Digital Data Wall becomes the key resource to guide discussions during your Professional Learning Communities.
Spend more time discussing students vs. gathering and organizing data.
Easy to view individual student data.
Simple to get a summary view of the entire grade level data.
Student Card "travels" to next year's teachers.
Create small groups (guided reading, project based, seating charts, etc.) simply.
Drag and drop functionality.
Create ability based groups across an entire grade level.
Display assessment data in Student Cell to simplify grouping decisions.
Simple entry and tracking.
Downloadable.
Progress monitoring data will travel with Student Card to next year's teacher.
Create a simple communication string with another teacher in an individual student's Student Card.
Messages will travel with Student Card to next year's teacher.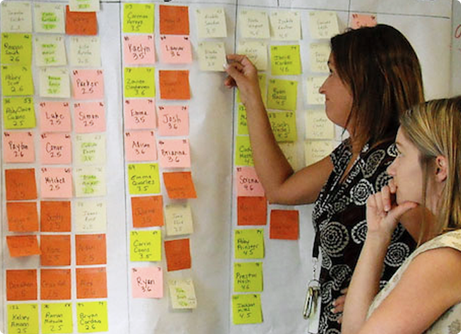 Are you ready to move
away from sticky notes
and paper cards ?