Class Composer Testimonials
"Our district implemented Class Composer last year to group our students and it was a "game-changer."  Our team insisted on having it again this year and without a doubt, it is the BEST program we have used. We can group our students seamlessly.  It is extremely easy to navigate. The learning portal is very explicit and helpful. Not only is the program easy to use, but the customer service is also AMAZING.  They are very responsive and willing to guide us throughout the process.  I would HIGHLY recommend this tool and truly believe that every school district should utilize it.  Class Composer is a 5-star tool!"
Samantha Dulude
Elementary Supervisor and BSI Coordinator
Washington Township Public Schools
Sewell, New Jersey
"Class Composer is the greatest tool a school can use to compose and create new class lists for the upcoming school year!  If you haven't already tried it, it is a must!!  It makes creating class lists the easiest and all of the information a teacher needs is right at their fingertips.  If you need support, there is always someone to help you and the response time is minimal.  I assure you I have been doing class placement cards for 30 years and my only regret is that we didn't have Class Composer years ago.  It truly makes life so much simpler for everyone involved!  Teachers and Admin are truly raving about it!  Try this program for one year, you have nothing to lose!  You will be hooked!"
Kathy Linderoth
Administrative Professional
Roosevelt Elementary School
Olympia, Washington
"Class Composer is a game changer! No more colored index cards, post it notes and hours wasted on trying to balance class lists. If my staff loves it, so will yours. Trust me!"
Jennifer (Gray) McKinley
Principal
Lawrence Avenue Elementary
Potsdam, New York
"Using Class Composer totally revolutionized how we conduct class placements. It was especially helpful during the school closure in the Spring of 2020 because it provided us a digital platform that allowed us to make informed decisions about where to place students for the following unpredictable year. It is extremely easy to use for both teachers and administrators. We will never go back to doing class placements on paper again!"
Hannah Elwyn
Assistant Principal
Chenango Forks Elementary
Binghamton, New York
"Class Composer does a great job with customer service. They were responsive and supported us in a minimum amount of time. Thank you!"
Anna Gawel
Elementary Assistant Principal
Hershey Elementary School
Hershey, Pennsylvania
"Our staff reluctantly moved to Class Composer last year. Previously they had a paper system that worked very well, and they didn't want to stray from that method. After using Class Composer, they do not want to turn back to our old system. They LOVE the ease of use, the data that gets passed on from year to year and the wealth of information you can generate with this program. We highly recommend Class Composer! It has made a huge difference for our school and generating class lists."
Karen Puga
Principal
Aspen Crossing Elementary
Aurora, Colorado
"Class Composer is helping our building principals and teachers communicate more efficiently and effectively through the online platform.  The ease of use within the system is very user-friendly and easy to navigate.  Additionally, customer support is excellent and quick to respond/help!  We will continue using this to build our classes at the elementary level in the coming years."
Carole L. Polney, Ed.D.
Director of Instructional Technology
Eastport-South Manor CSD
Manorville, New York
"Our teachers have loved using Class Composer!  It has made the process of creating balanced classrooms much easier with teachers able to work together remotely and retaining information from year to year.  This is one program that my teachers demanded we use again!"
Mary A. Bussman, PhD
Principal
Brimhall Elementary School
Roseville, Minnesota
"Because of the Pandemic that hit in March, 2020, our school had to think of creative ways to do our traditional "pink & blue cards". Class composer was being used in several schools in our district. The program is definitely a game changer! What used to take us a few days of work during post planning can now be done by data entry and a click of a few buttons in a couple of hours. We will not be going back to hard copy cards and will stick to Class Composer. It's user-friendly and keeps us organized!"
Daisy Tremps
Assistant Principal
Brandywine Elementary School
Alpharetta, Georgia
"Class Composer has been an amazing tool for our district. We piloted it in the spring of 2020 due to our need to pivot to a digital platform, and we fell in love! Since then, the program has made some great updates that streamline our process significantly. The support team has been prompt and responsive, even to the point of adjusting the program to meet our district's needs! We are very thankful to have Class Composer, and we are excited to continue working with their team!"
Olivia Hiddemen
School Counselor
Kindergarten Academy
Mechanicsburg, Pennsylvania
"It was a miracle. My time went from around 20 hours or so down to three. My staff absolutely loves it. I would highly recommend it."
Kristen Schroeder
Upper Elementary Principal
American School of Doha
Doha, Qatar
"Our class placement and grouping process was antiquated, and our district was challenged to group and place students, particularly in the Spring of 2020. Using paper cards with handwritten data clearly wouldn't work in a remote environment. Discovering and using Class Composer completely transformed our process. Our teachers, reading specialists, counselors, and administrators were able to successfully group students in more than half of the time. The data cards housed a plethora of information and having this data electronically has been powerful. The process was so easy for all our users; we can't ever turn back!"
Gretchen Gerber
Director of Elementary Education
Washington Township Public Schools
Sewell, New Jersey
"Class Composer has made the process of assigning students to classrooms more efficient and easier!  Last year we were looking for a way to replace our antiquated "pinks and blues" and Class Composer was the answer.  This year my teachers requested that we use it again because it was easy to use and provided more tools to see the balance of classes and to move students between classes to ensure the rooms were balanced and reflected student needs."
Rodney Saunders
Principal
Doral Academy- Pebble Campus
Las Vegas, Nevada
"Aside from helping our school save days of hours for teachers and admin's putting together classes. Class Composer has given our school great customer support from beginning to end of the process.  The support team is really informed and goes the extra mile at every stage. We sent feedback about different features through the process last year about ways it could better serve our school and this year we are happy to see the added items to better serve teachers when building classes. I would recommend them unreservedly if you are trying to make rolling students over easier and have high expectations for customer service. Thank you Class Composer!"
Amie Johnson
Administrative Assistant
Valencia Elementary School
Aptos, California
"My teachers love your product. It has saved them days of work! Thank you!"
Aisha Thomas
Principal
Zach Elementary
Ft. Collins, Colorado
"Using Class Composer totally revolutionized how we conduct class placements. It was especially helpful during the school closure in the Spring of 2020 because it provided us a digital platform that allowed us to make informed decisions about where to place students for the following unpredictable year. It is extremely easy to use for both teachers and administrators. We will never go back to doing class placements on paper again!"
Hannah Elwyn
Assistant Principal
Chenango Forks Elementary
Binghamton, New York
"We chose to use Class Composer for the first time last year for many reasons. We wanted more balanced classes, wanted to give an enormous amount of time back to teachers, and we wanted to provide a way that we can better sort groupings and needs of students to provide better supports. The balance of the classrooms was incredible for all teachers when we saw the end result. Unfortunately, with the pandemic in mind, we had to break up the classes thereafter, but in the process of managing through this would not have been the same had it not been for Class Composer. We were able to still very quickly move students in and out of remote learning to face to face, keep siblings together in order to better manage contact tracing, and all the while we've been tracking benchmarking this year in order to simply with the click of the mouse manage classes for next year. We are very much looking forward to experiencing some of the new features this year and perhaps hoping to use it in the manner in which we planned originally."
Deana Simpson
Principal
Monroe Center Grade School
Stillman Valley, Illinois
"Please know that we LOVE Class Composer and appreciate the continued effort you and the rest of your company make to make things even better than they already are!!"
Courtney Mizufuka-Oda
Instructional Coach
Pearl Harbor Elementary School
Pearl Harbor, Hawaii
"Just wanted you to know we did our grouping on Friday and loved this program. Grouping Day is usually very stressful and it was not a time we were looking forward to but WOW! We did make a couple of changes but we were thrilled with the grouping!
June 2019
"I can also say our second grade teachers are very happy with their classes this year that were formed using this program."
February 2020
Susan Winn
1st Grade Teacher
Roxboro Road Elementary School
Mattydale, New York
"Class Composer gave us a great starting point. It was a major time saver. We loved that we could put both academic and behavior needs for students in one place. The color coding feature provided a visual representation of how the classes were balanced. Thank you for your amazing product!"
2nd grade team
Zach Elementary
Ft. Collins, Colorado
"I love Class Composer. My husband and I joke about how this may have saved our marriage."
Tamara Speidel
Principal
Buffalo Trail Elementary
Aurora, Colorado
"Class composer has taken the stress out of sorting students into their next year grade-level classes. Prior to Class Composer, my teachers would spend a lot of time completing the traditional Pink/Blue Cards to use for sorting students. Once we subscribed to Class Composer, student information was able to be imported. This saved an incredible amount of time. Teachers were then able to input student data and the system took it from there. With the click of a button, the classes were sorted and were equitable in regards to academic performance, behaviors, etc. If we needed to make any adjustments, that was easily done as well.  We plan to continue to use Class Composer for years to come.  My teachers love how user-friendly it is and how much time they save."
Stephanie Pimentel
Principal
Adkison Elementary
Modesto, California
"The Class Composer team has been nothing but wonderful as my elementary school begins the dubious task of class assignments for the new school year.  The site is continually evolving and the developers are open to feedback and suggestions to continue to enhance their platform.  Teachers easily add student information and important team members can be included in the collaborative process.  We are excited to use this product in the coming weeks and can't wait to see how it will evolve and grow."
Lisa Carlson
Principal
Rock Hill Elementary School
Wallingford, Connecticut
"I happened upon Class Composer after searching for years for the best process for replacing our class sorting process at the elementary level.  I have never been more thrilled to have a software program that truly makes a laborious task more efficient and effective.  I wish I could get a refund on the huge amounts of pink and blue card stock and time that has been spent in the last 20 years on this process. Now, teachers take about 1 hour to fill out some critical baseline information, administration establishes guiding rules for the sort, and in 15 seconds you have balanced classroom assignments that are supported with data. You can make quick changes or alterations on the fly, and if that is good enough.....now the program is usable all year long as a data wall and student sort for skill practice.  The owners/developers are extremely responsive and always looking for ways to improve the product and expand the application to aid in student-focused learning.  Kudos to the folks at Class Composer!"
Jen McClure
Elementary Principal
Siegrist Elementary
Platte City, Missouri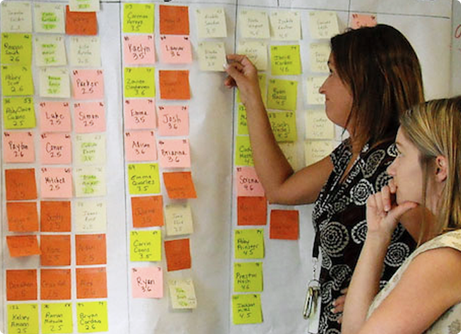 Are you ready to move
away from sticky notes
and paper cards ?